Click & Grow Smart Garden 9
The perfect gardening solution made simple
✓ Grow up to 9 plants at once
✓ Grow your own fresh herbs all year round
✓ Non-GMO, pesticide and herbicide-free
✓ Compact, reliable and energy-efficient
---
Designed to Optimise Plant Growth
The Click & Grow Smart Garden 9 is an innovative self-growing garden made to fit in your home for any and every kind of plant growing need.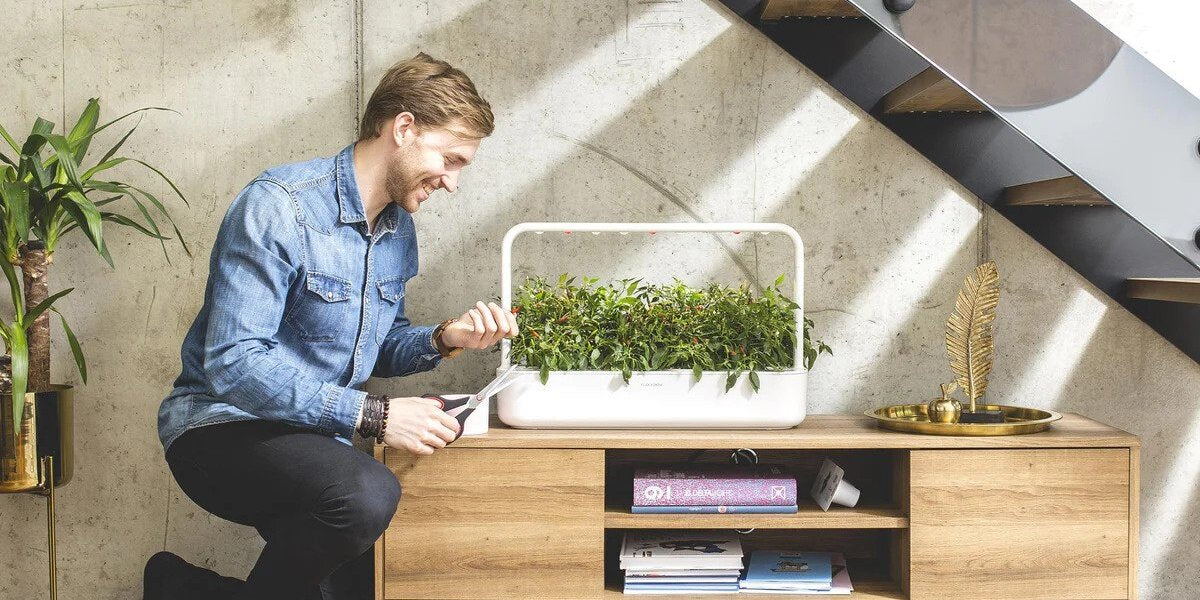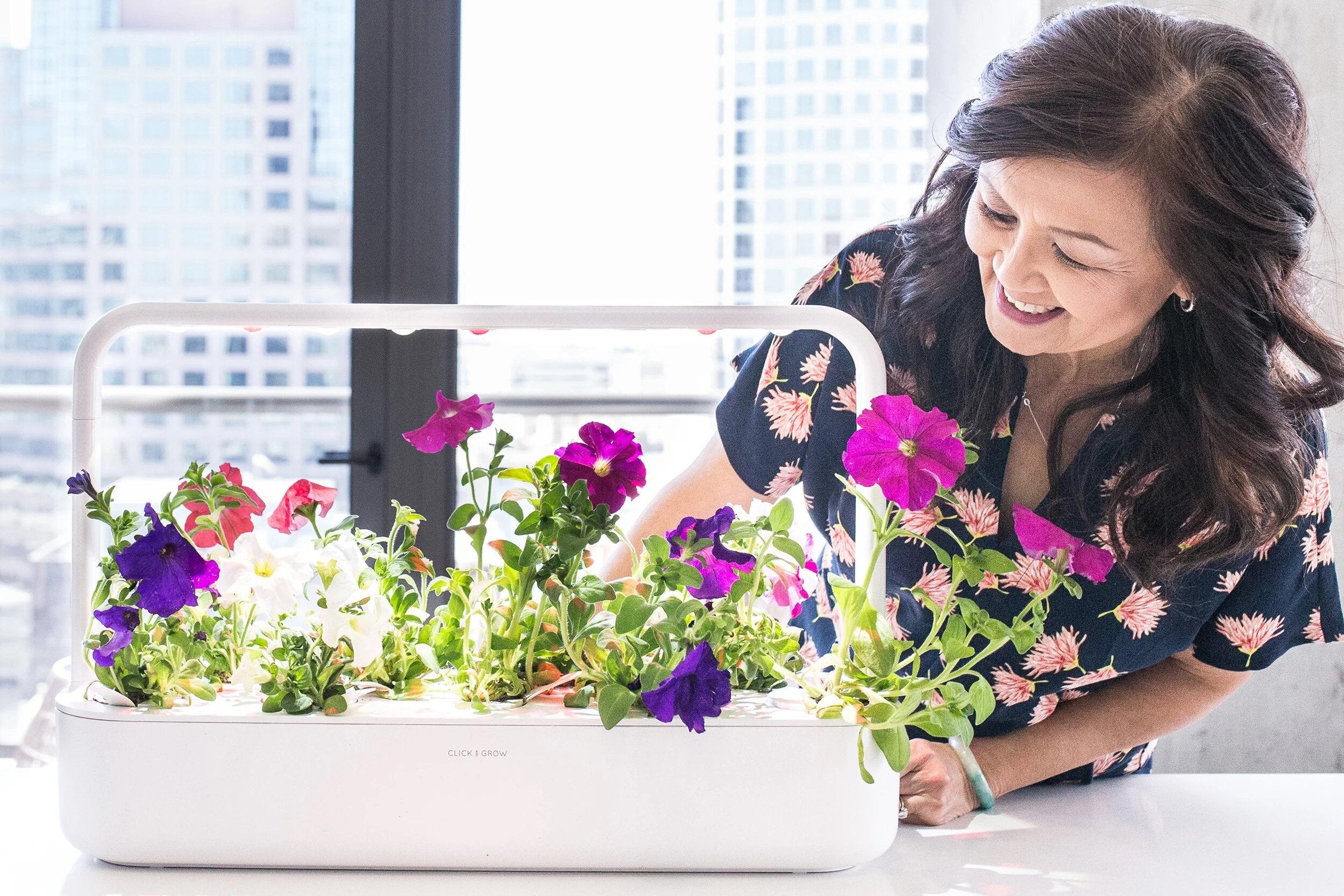 The Smarter Way To Garden
Growing your own herbs, salad greens and flowers can be as easy as using a coffee machine. Plug in the power adapter, insert the plant pods, fill the water tank, and you're ready to go! A passive watering system uses noiseless capillary action. LED lamp contains a built-in timer, encouraging plant growth regardless of the weather. Low power consumption (13W), adjustable height so plants can grow to any height.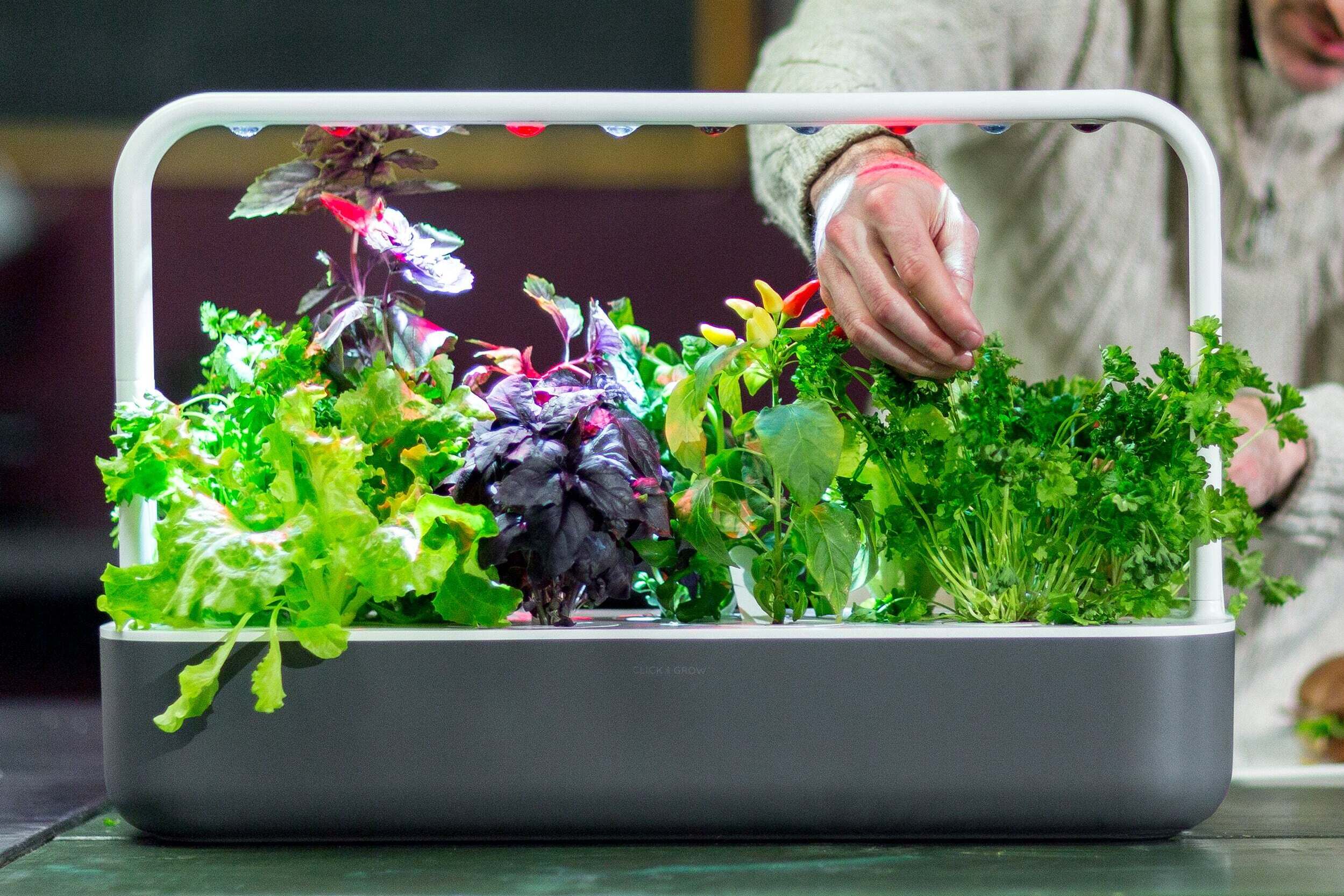 NASA-Inspired Smart Soil
Inspired by NASA technology, Smart Soil creates the perfect environment for your plants to thrive. It keeps water distributed evenly inside the nanostructure, so the plant roots have access to water at all times. It releases nutrients in sync with the plant's life cycle, keeps soil pH balanced, and employs tiny oxygen pockets to guarantee plants get ample breathing room and nutrients even when the soil is wet.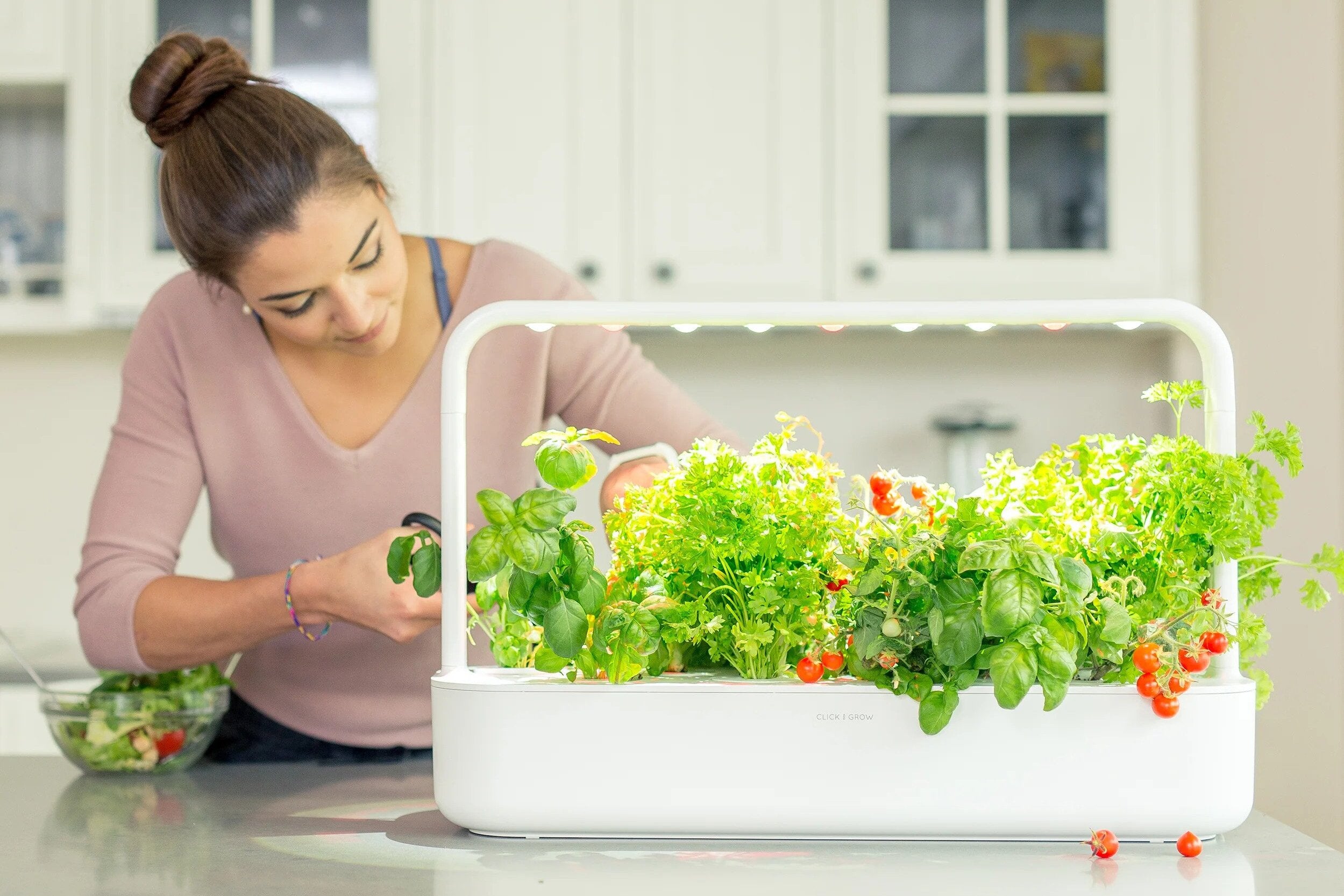 The World Is Your Garden
The Smart Garden 9 comes with 9 complimentary plant pods. Click & Grow has over 50 different thoroughly tested pre-seeded plant pods for you to choose from. Try classic herbs like thyme, rosemary, and coriander, or salad greens including romaine lettuce, and arugula. You can also choose fruiting plants like mini tomato and wild strawberry, several different kinds of chillies and peppers, or decorative flowers. If this selection isn't enough, Click & Grow experimental pods come without seeds, so you can use them to grow anything you want.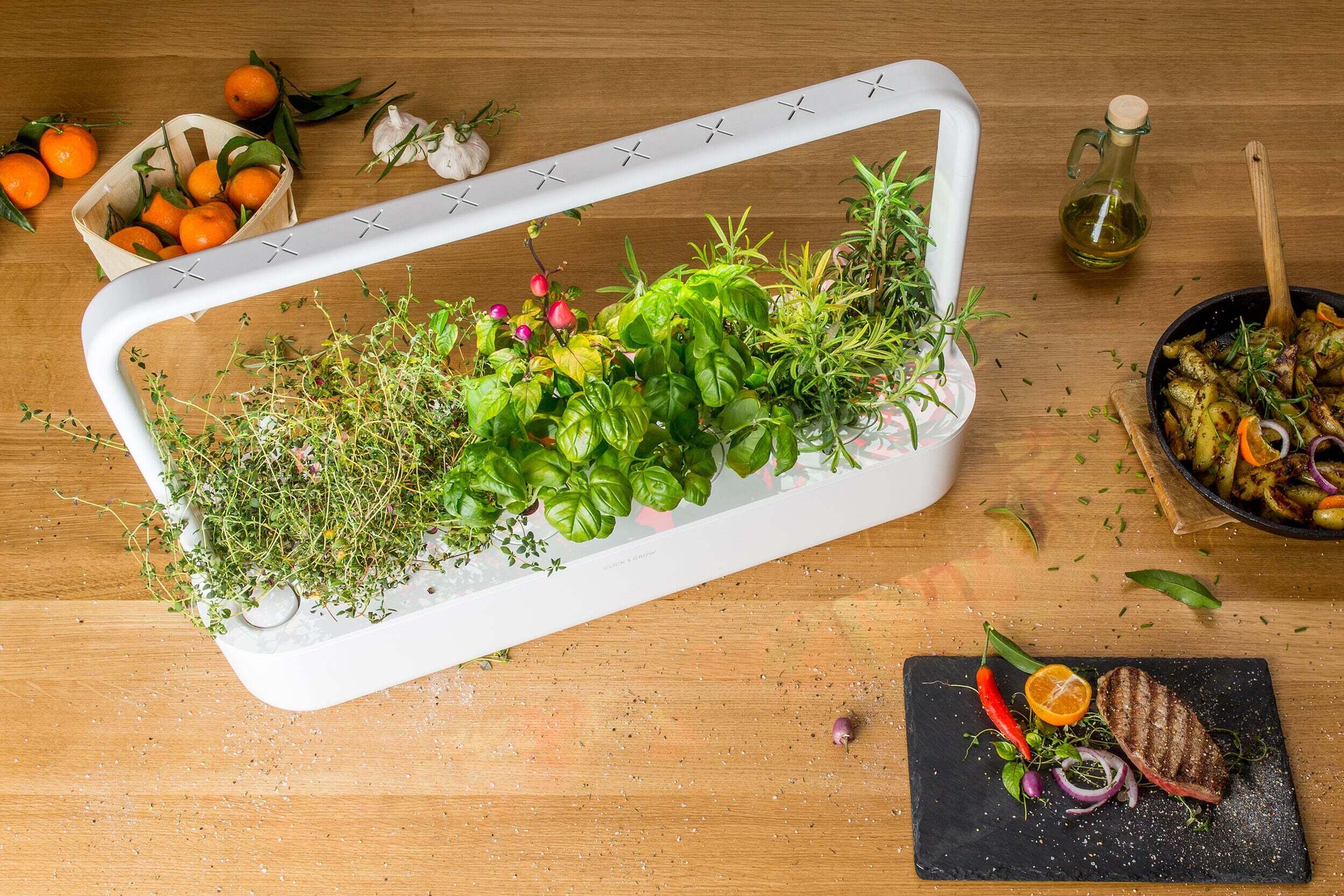 Organic The Way You Want It
Click & Grow plant pods use non-GMO seeds and do not include any herbicides, pesticides or fungicides. Lab tests have shown that herbs grown in Click & Grow Smart Gardens contain 600% more vitamins than store-bought samples. With the Smart Garden 9, gain access to fresh, vitamin-rich produce in your own home. The growth medium is made of natural, renewable materials, and contains no pesticides, fungicides, hormones or other harmful substances.
Click & Grow Smart Garden 9
Technical Specifications
1x Click & Grow Smart Garden 9

1x Quick Start Guide with pro gardener tips

3x Basil Plant Pods

3x Green Lettuce Plant Pods

3x Mini Tomato Plant Pods

1-Year Limited Hardware Warranty
Plant Pods: 9

Water Tank: 4 litres

13 W (6.2kWh per month)

Material: ABS
Dimensions: 60.4L x 18.4W x 39.6H cm

Weight: 2.4 kg

Cable Length: 280 cm
Does it work if I put my own soil and seeds (and not from Click & Grow)?

You can definitely try different things, but the system is optimised to work with Click & Grow's Smart Soil. We do have Experimental Pods available, which don't hold any seeds, so you can use your own!
Can I transfer the plants to a pot or a garden?

Yes, you can re-pot your plants or transfer them to your garden, and use your Click & Grow to start growing new plants!
What is the sprouting guarantee?

If your plant pods do not sprout after the stipulated sprouting timeframe, we will happily replace your plant pods with new ones.
Got a question? Let us help.

Reach out to us via our Live Chat or Contact Form if you have any queries.
This product has no reviews yet.