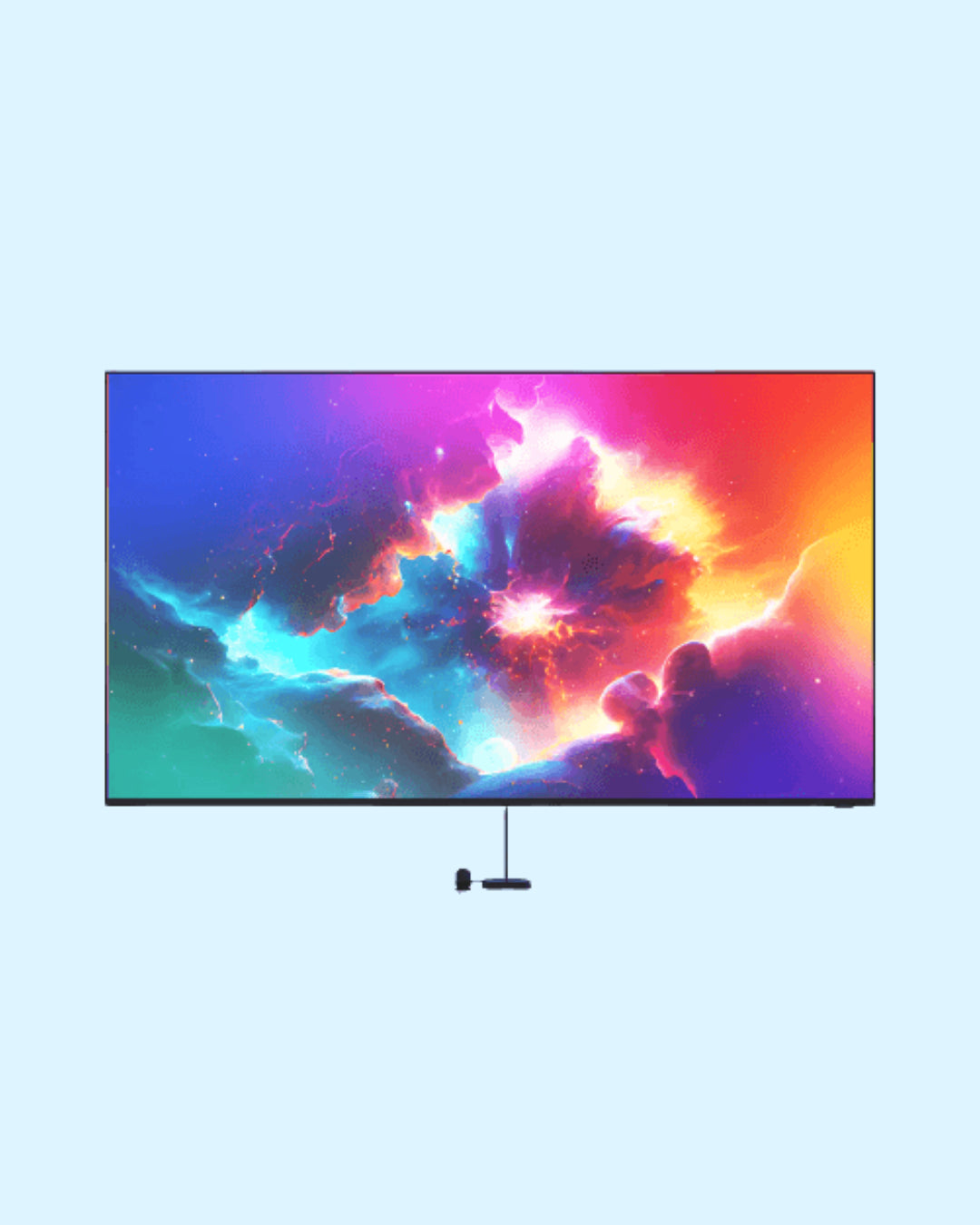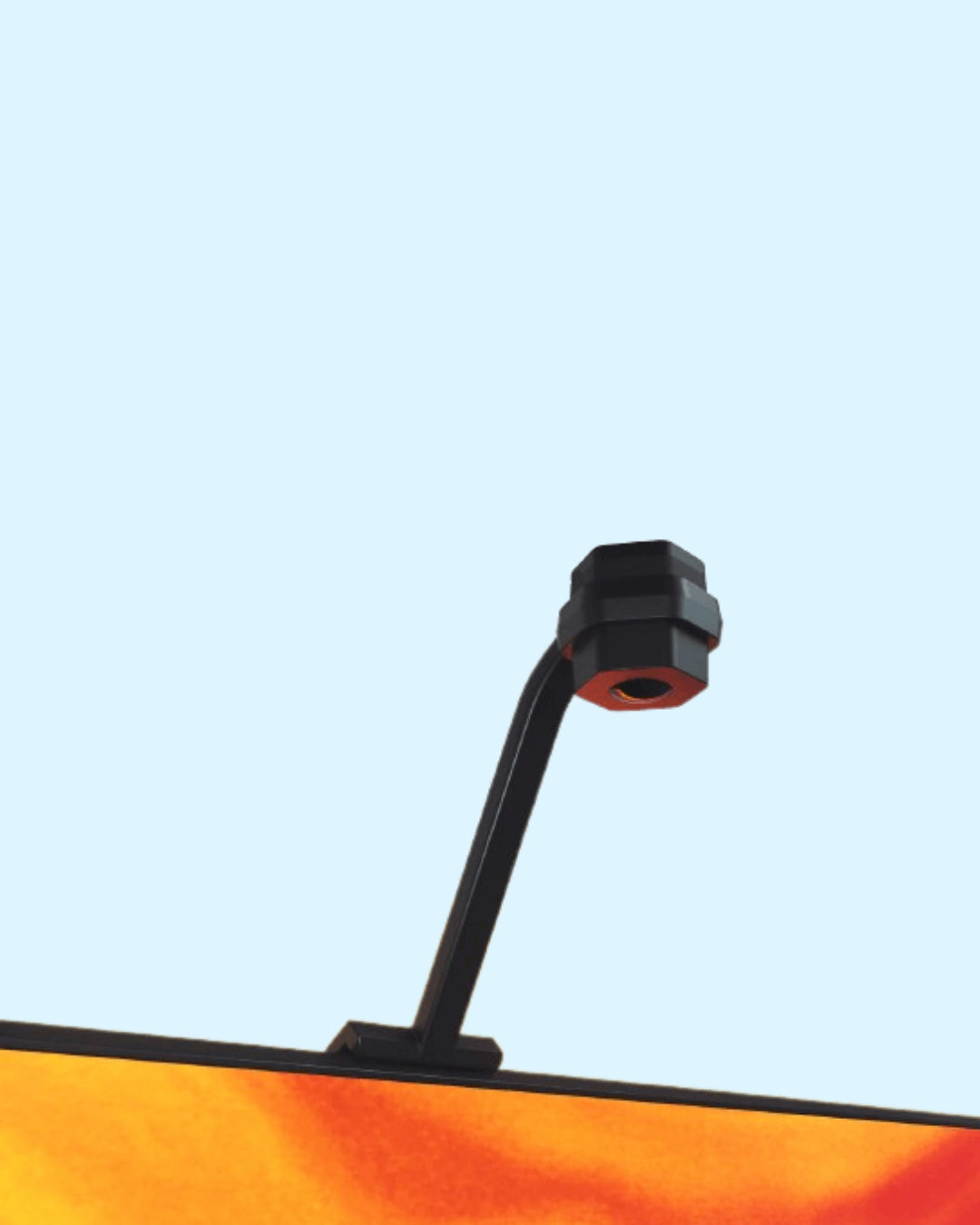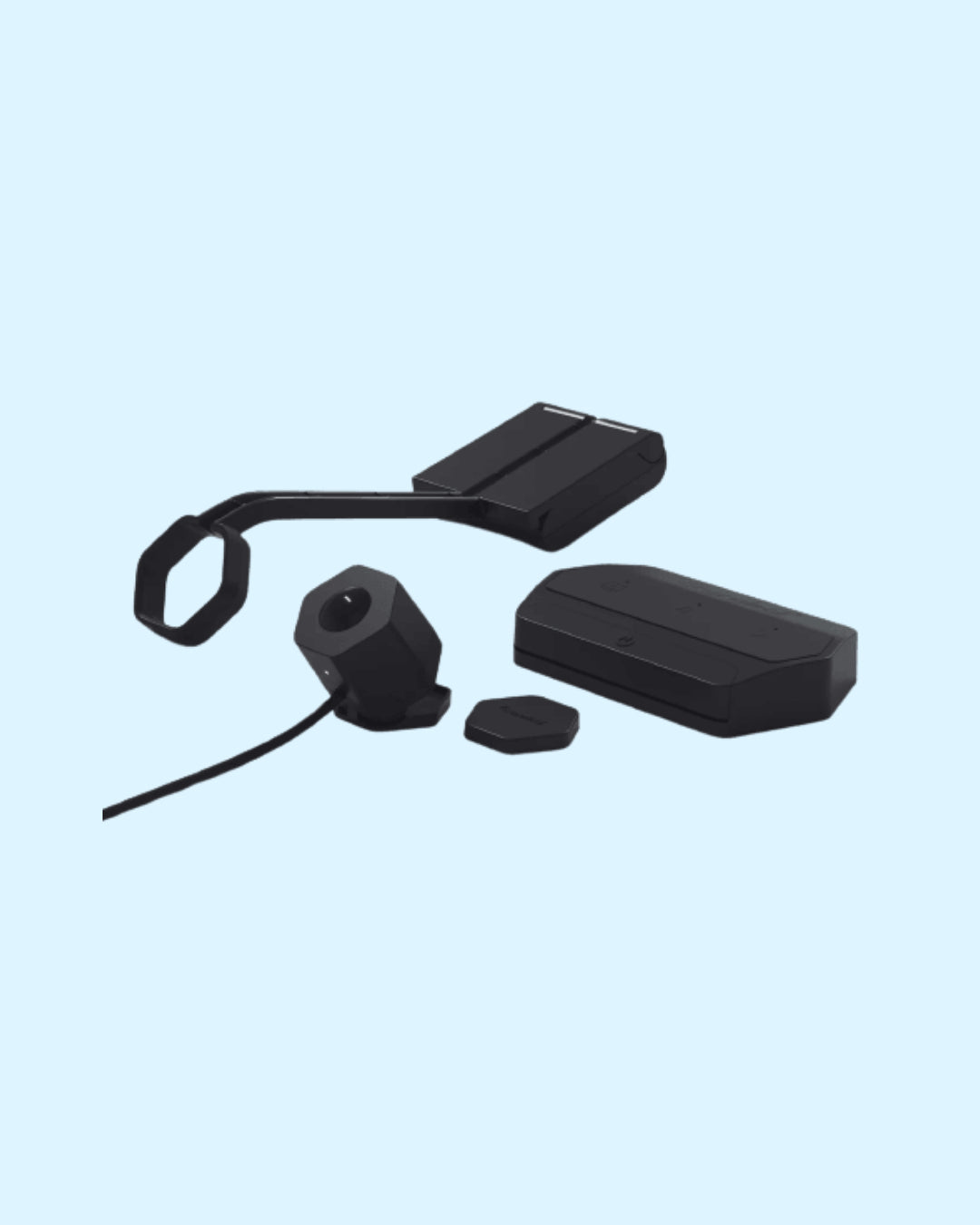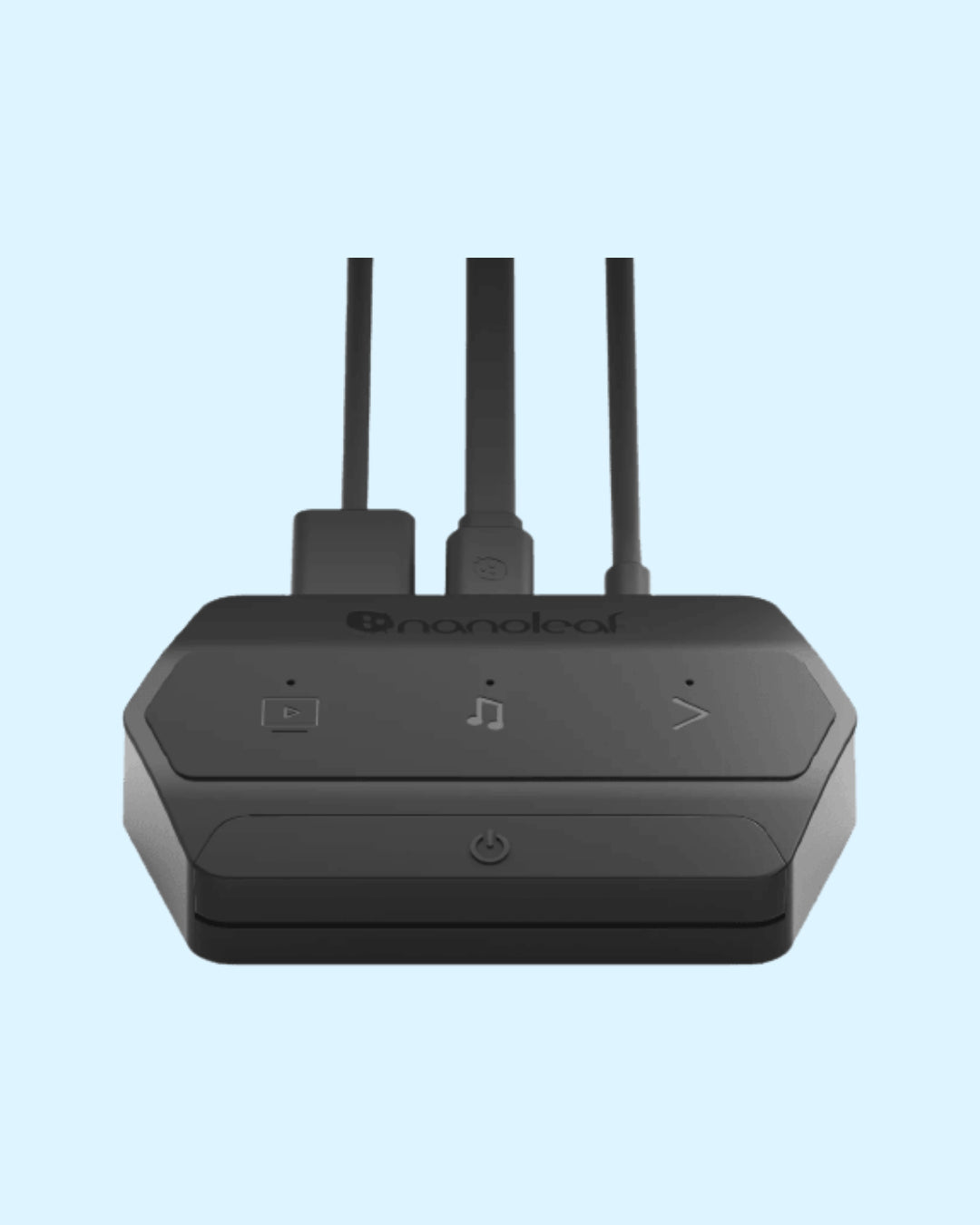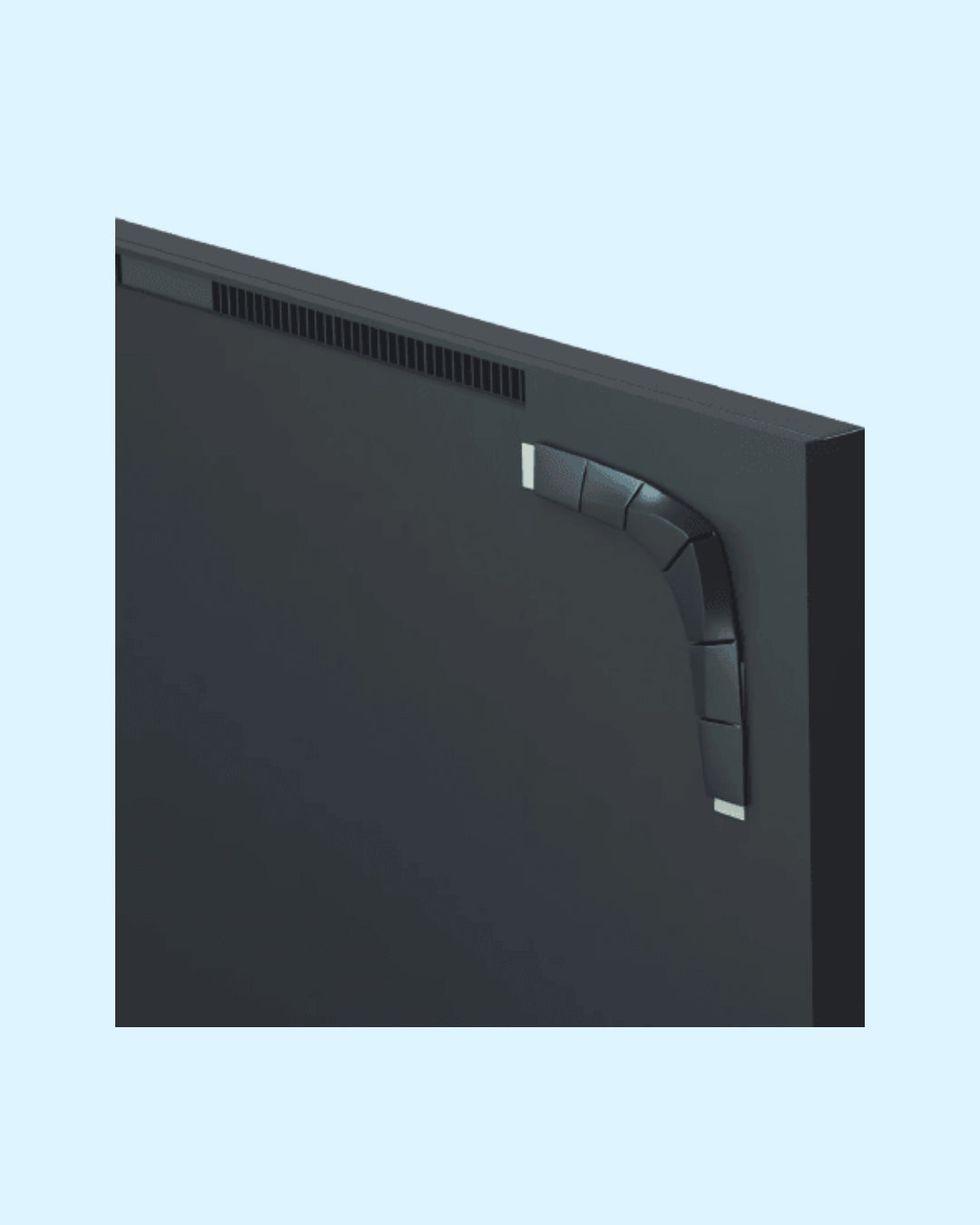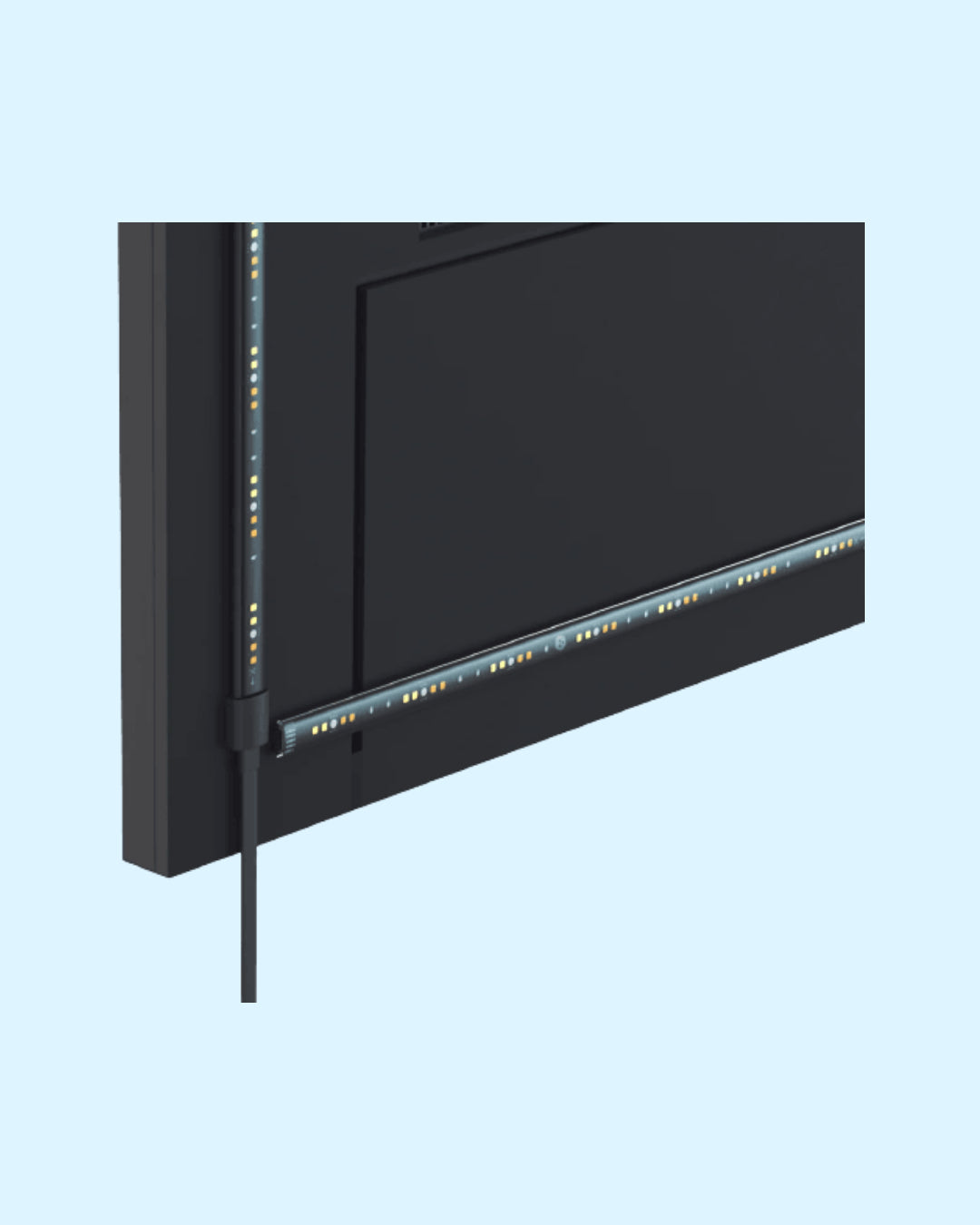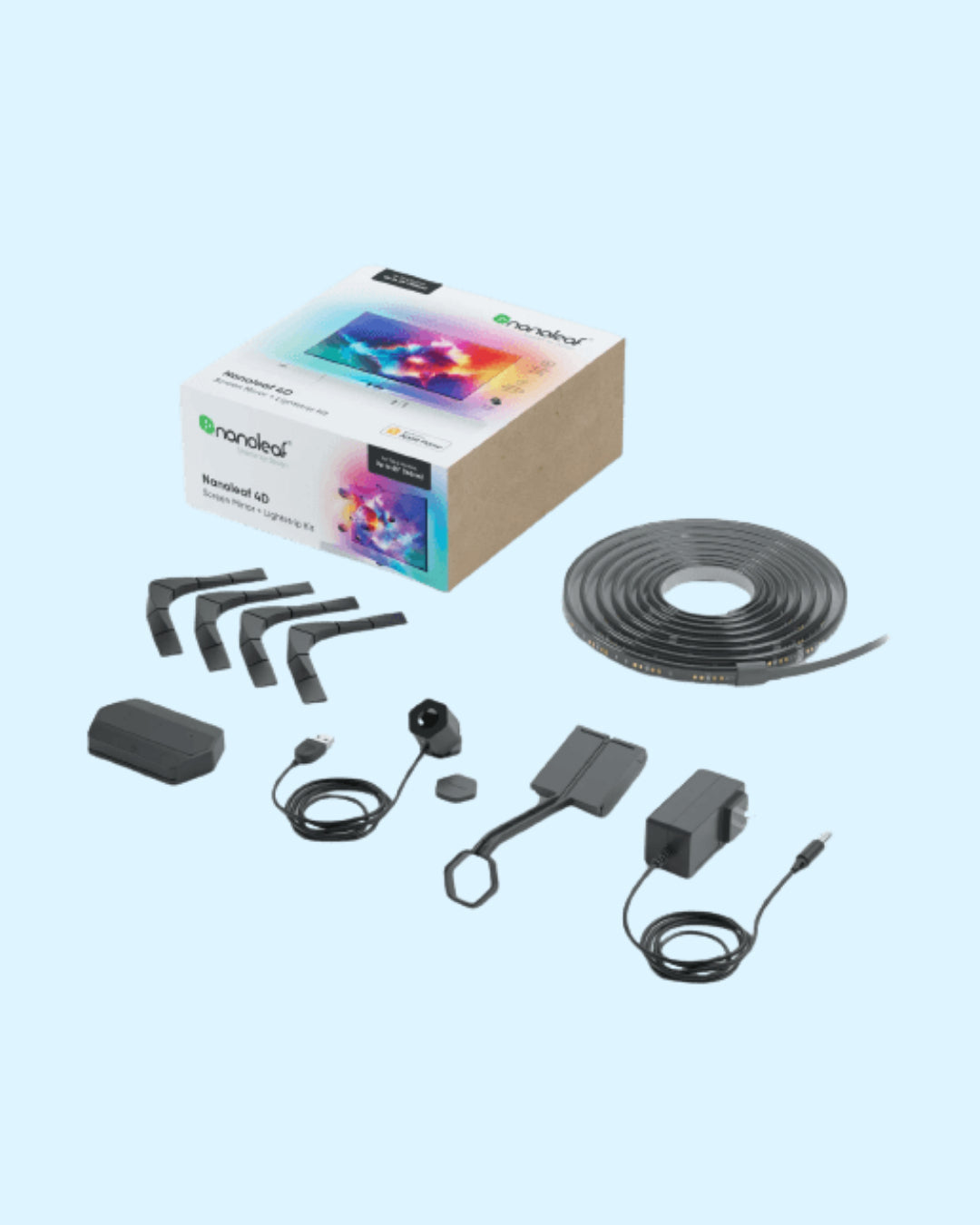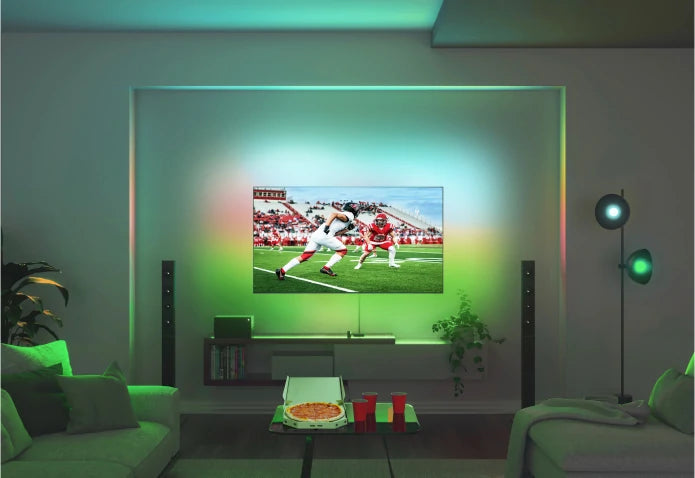 Nanoleaf 4D Screen Mirror + Lightstrip Kit
Your Smart Lighting Basics
✓ Ultra vivid screen mirroring
✓ Trimmable lightstrip
✓ Privacy cover for camera
✓ Use with TV screens or monitors
---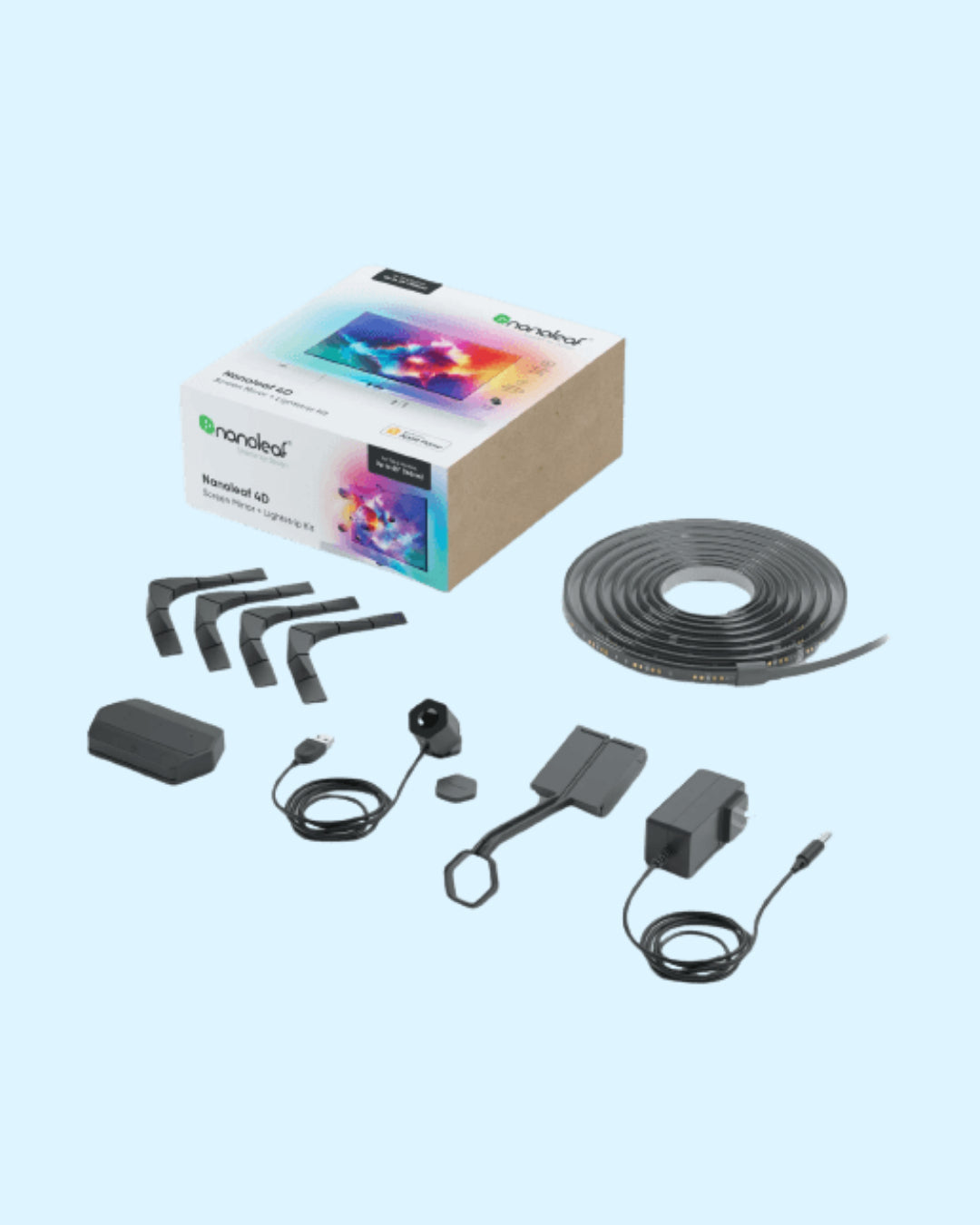 Seeing is Believing
Experience the ultra-immersive ″4D″ effect as the vibrant backlighting illuminates your space with the colours from your favourite shows, movies, and video games.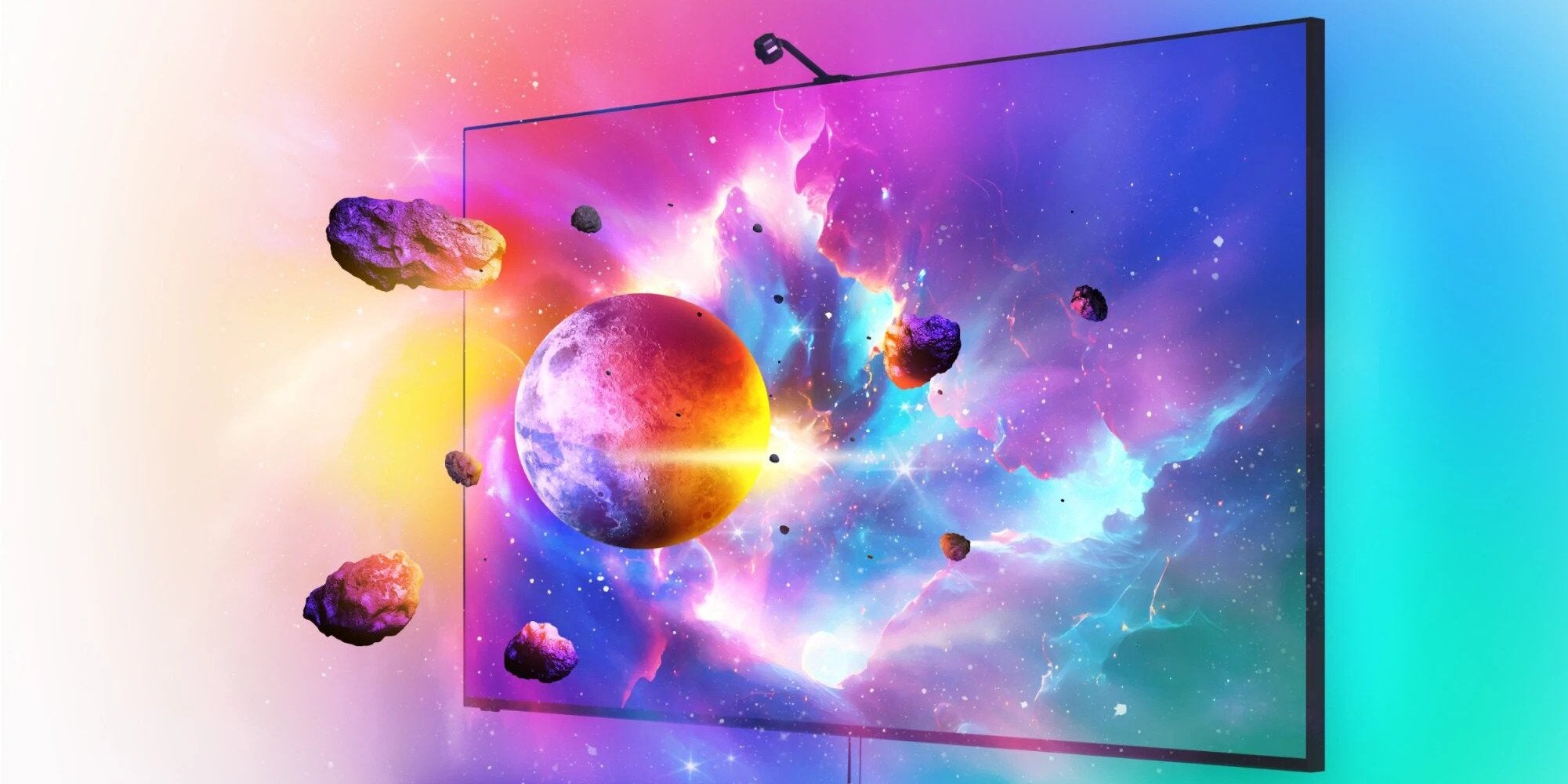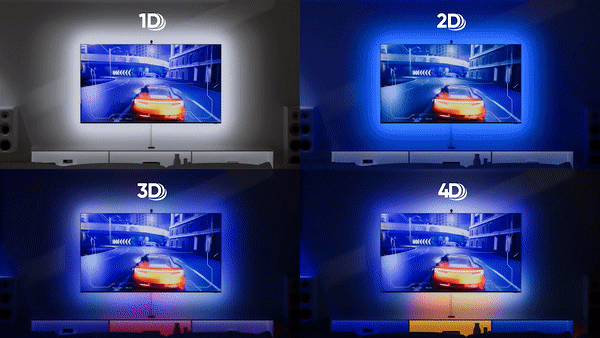 Endless Entertainment
Choose from 4 Screen Mirror modes with varying degrees of immersion to best suit what you're watching—from ambient background lighting, to fluid colour melts, and finally a direct "4D" match for the highest impact.

Add Rhythm sound reactivity to any screen mirror mode to bring your favourite music videos and soundtracks to life!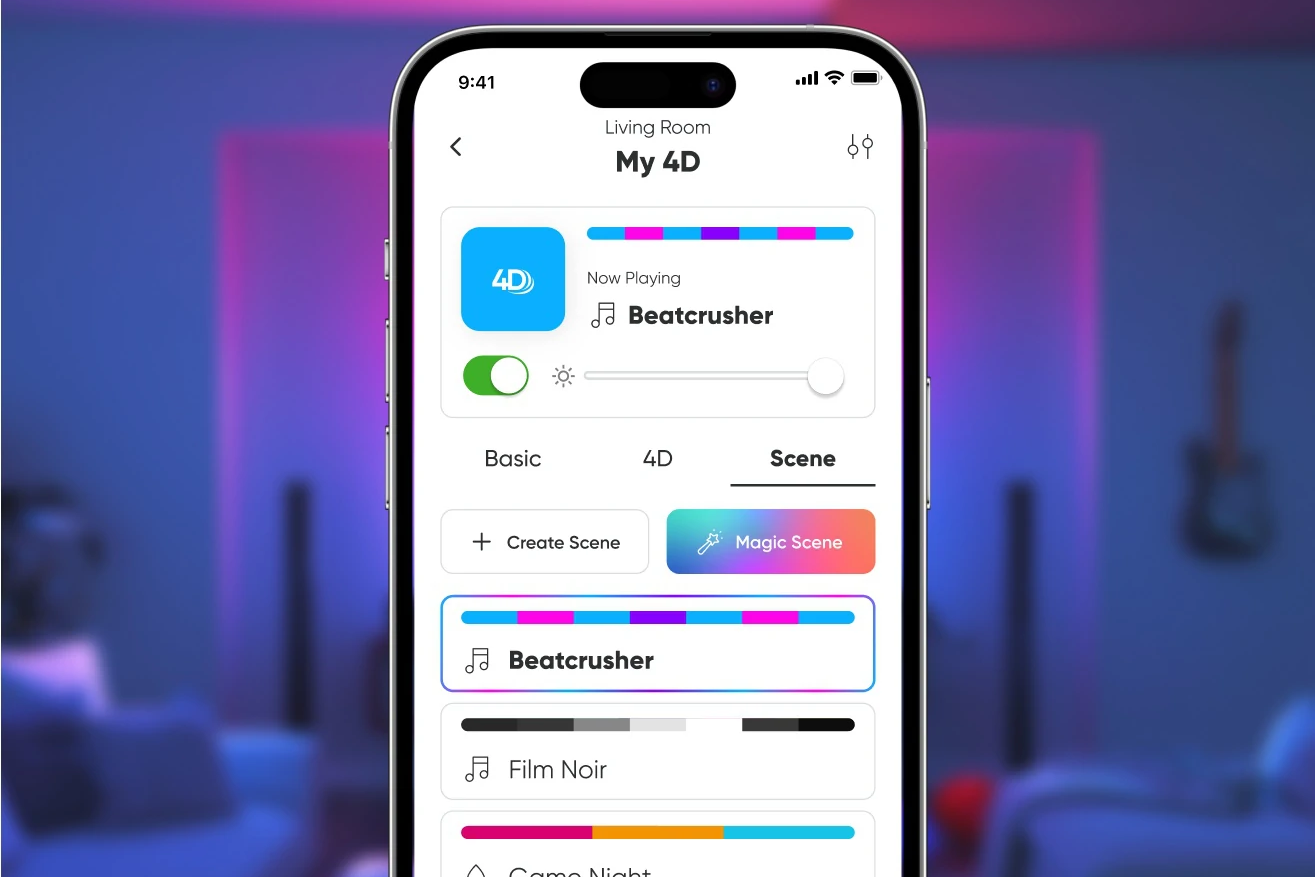 Dynamic Colour-Changing Scenes
Design your own lighting effects with 16M+ colours, or discover thousands created by the community. Enjoy these non-mirroring Scenes even when the screen is off: Set the ultimate gameshow vibe for trivia nights, rep your team for the big game, or just unleash your inner artist for all to see.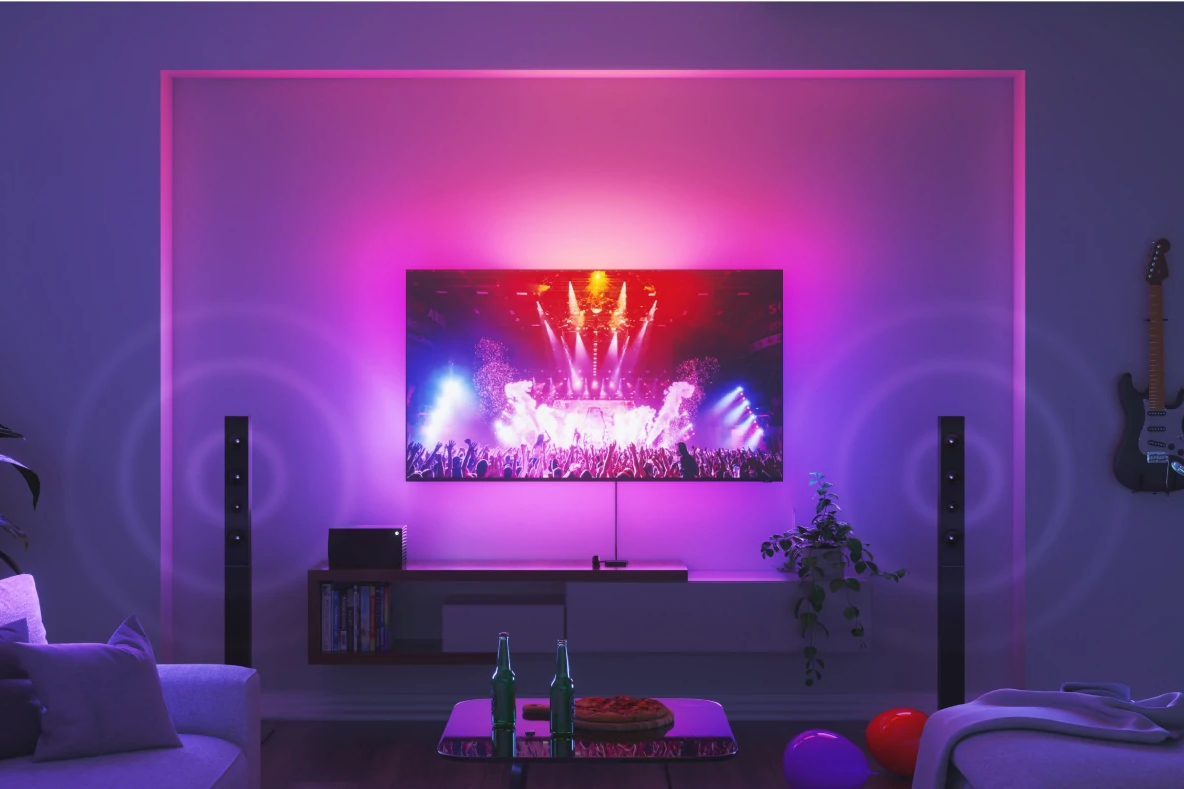 Rhythm Music Visualizer
Turn on a non-mirroring Rhythm Scene and watch as your lights react to your favourite music playlists in real-time for a complete audio-visual lightshow.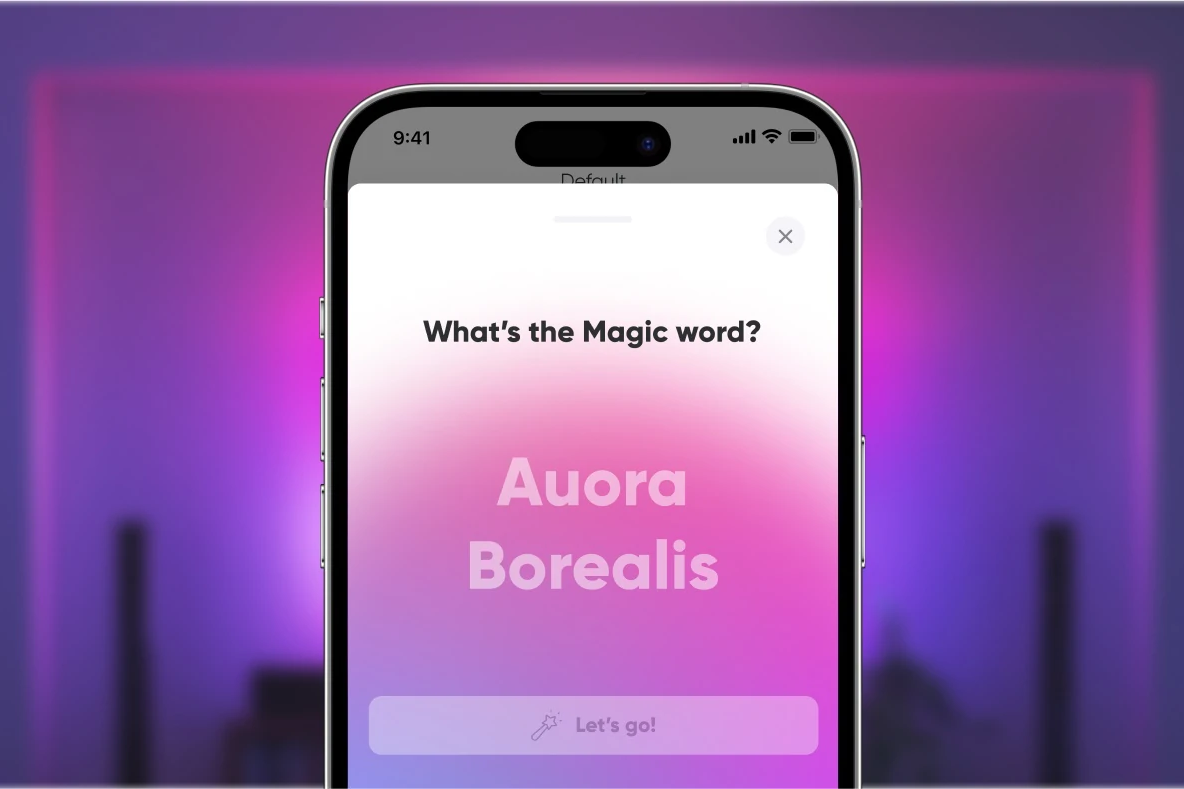 Magic Scenes
Enter any word to "magically" generate a unique Scene inspired by it. Try it with the titles or character names from your favourite shows, movies, or video games for a colourful and thematic treat!
Nanoleaf 4D Screen Mirror + Lightstrip Kit
Technical Specifications
1x Screen Mirror Camera

1x Camera Mount

1x Magnetic Privacy Cover

1x Nanoleaf 4D Controller

1x Addressable Gradient Lightstrip up to 65"

1x Power Supply

2x Lightstrip Corner Brackets
Luminous Flux Per Panel: 275lm

Lifetime: 25,000 hours

Communication Protocol: WiFi (2.4 GHz b/g/n)
NOTE: 5GHz networks are not compatible with Nanoleaf products.

Dimmability: Yes (via Nanoleaf App, Voice, Controller)

Mounting Type Camera: Tape at the bottom of the camera OR via TV mount

Mounting Type Controller: Tape at the bottom of the controller

Mounting Type Lightstrip: Tape at the back of the Lightstrip

Nanoleaf App: Control via the Nanoleaf App (Android & iOS) for mobile/tablet or the Nanoleaf Desktop App (Windows & Mac)

Compatibility: Apple Home, Amazon Alexa, Google Home, IFTTT, SmartThings, Razer Chroma

Usage: Indoor

IP Rating: IP20

Colour Channel Configuration: RGBIC

Resolution: 30 LEDs per metre

Max Colours: More than 16 million

Colour Zones: 10 zones per metre

Input Voltage: 100V-240V

PSU Output Voltage: 12V2A

Max Power Supply Power: 24W

Max Energy Consumption Per metre of LS: 7.2W
Controller: 93.3 x 57.1 x 17mm & 66g

Lightstrip (up to 65"): 12 x 4.8mm @4m & 50g

Camera: 31 x 28 x 34mm & 60g

Mount: 181.2 x 56.3 x 50mm

Corner Brackets: 148.5 x 18 x 17.9mm

Camera Cap: 29.9 x 27 x 4.6mm

Cable Length (Camera): 1.5m

Cable Length (Lightstrip): 1m

Cable Length (Power Supply Unit): 2m
Got a question? Let us help.

Reach out to us via our Live Chat or Contact Form if you have any queries.
This product has no reviews yet.