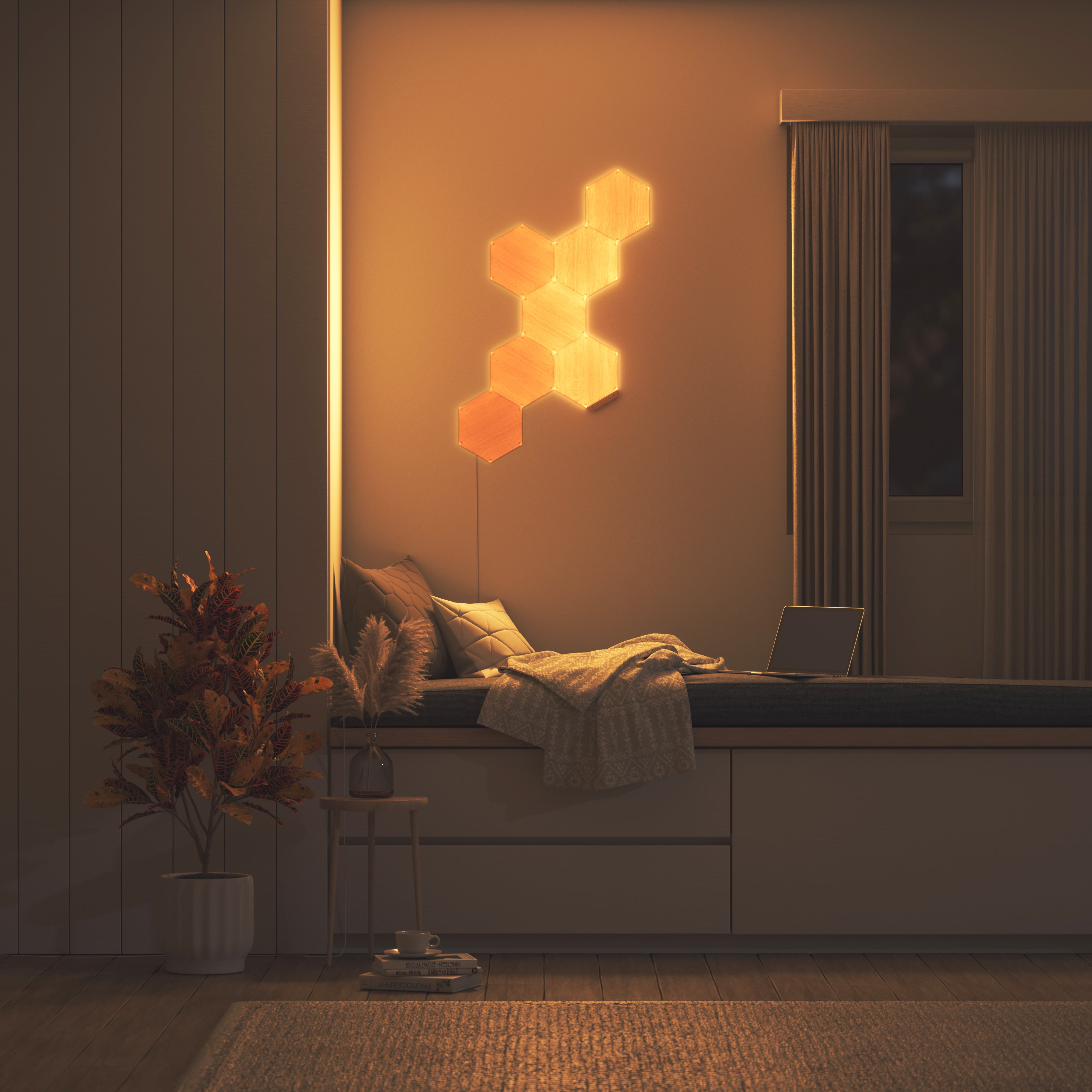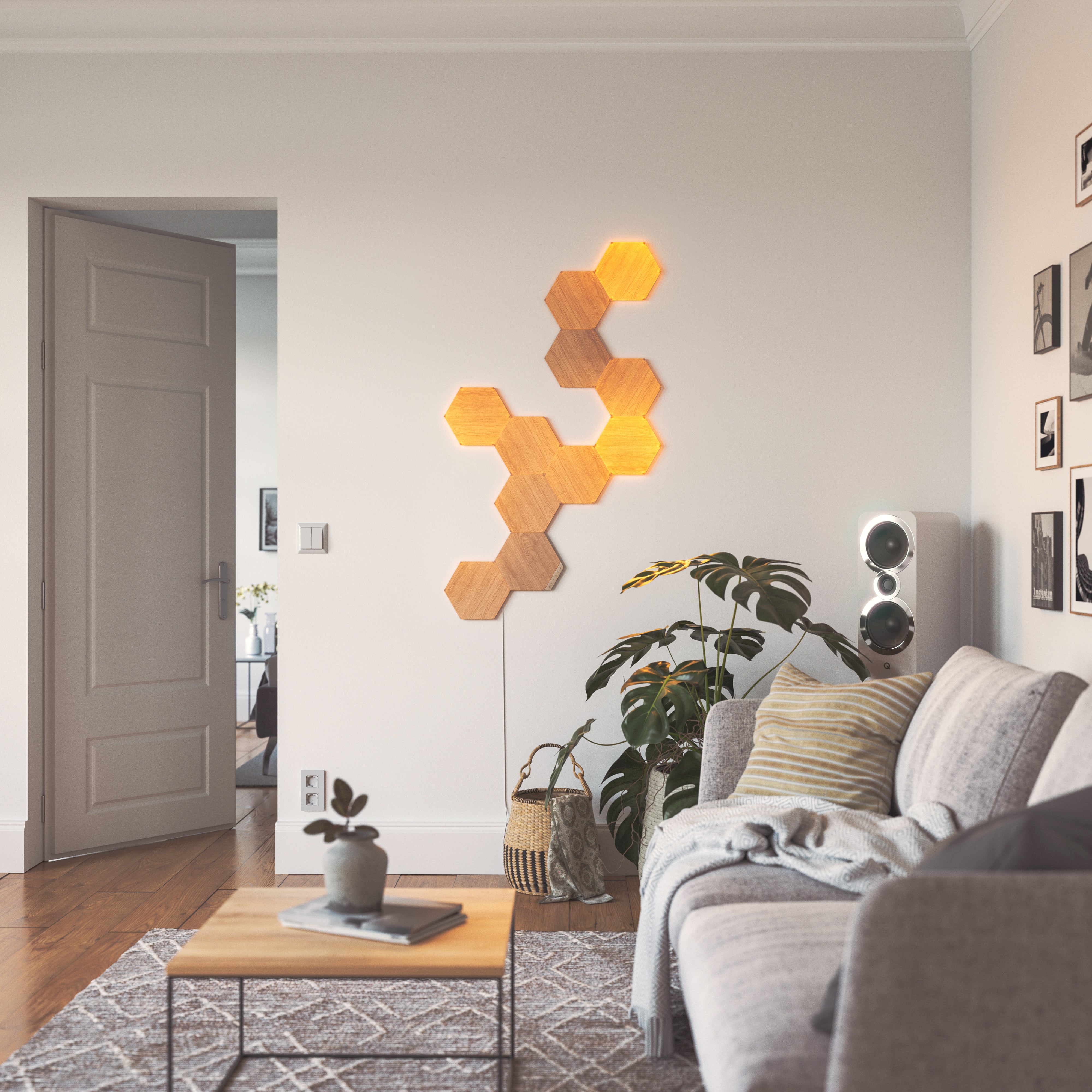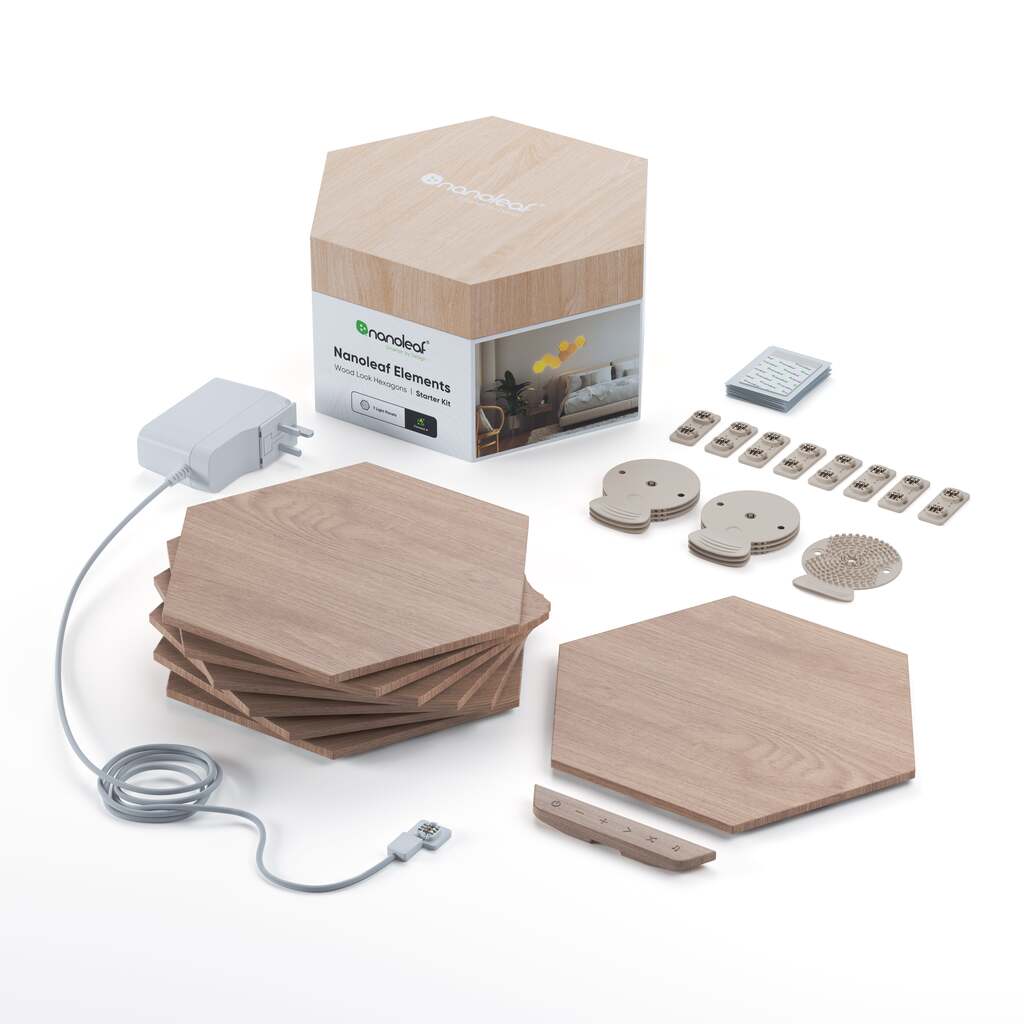 Nanoleaf Elements
Wood Look Smart Lighting Panels
✓ Refined wood grain texture while off
✓ Warm illuminated glow while on
✓ Stunning geometric centrepiece all the time
---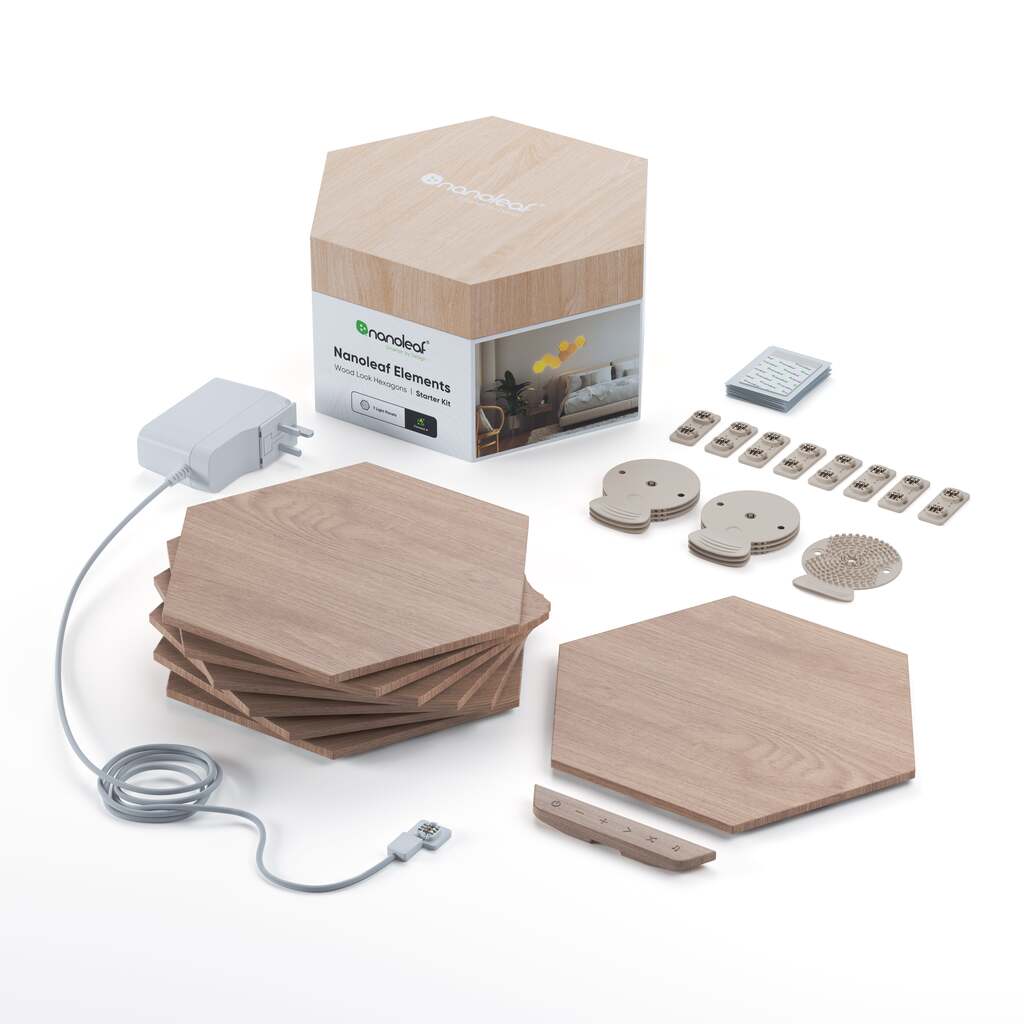 Design Your Own Personal Oasis
Wood look panels are designed to add an elegant and organic feel to your home. Choose from a range of warm to cool lighting options to illuminate your space with a natural glow. Made to look beautiful on or off.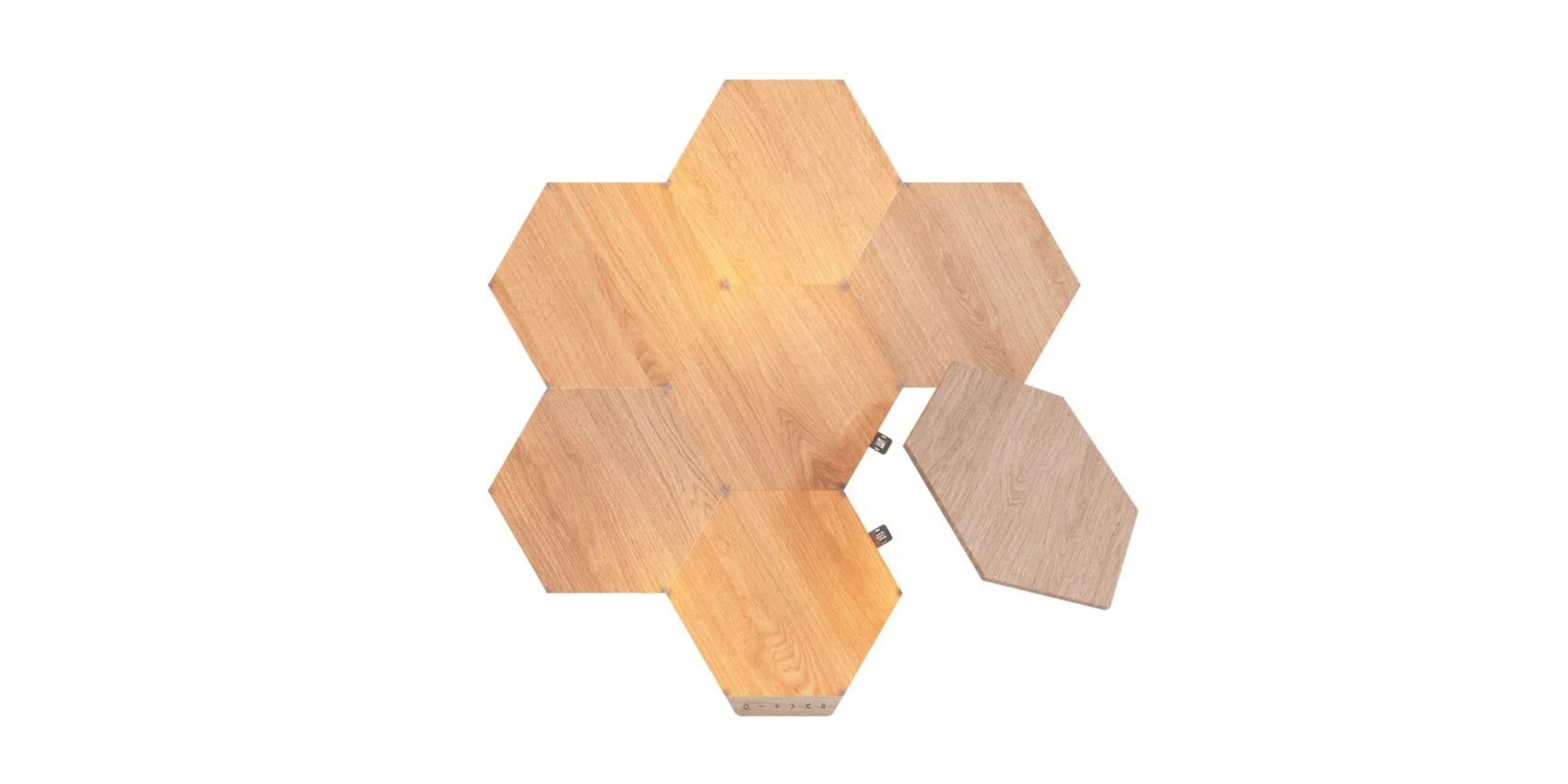 Bespoke Lighting Designs
Create a truly personalised lighting experience. Explore your own unique lighting designs by arranging the modular panels into any configuration you want for complete creative freedom. Nanoleaf Elements offer truly bespoke lighting without the traditional markups, all without sacrificing elegance or style. The best part is you can easily redesign at any time!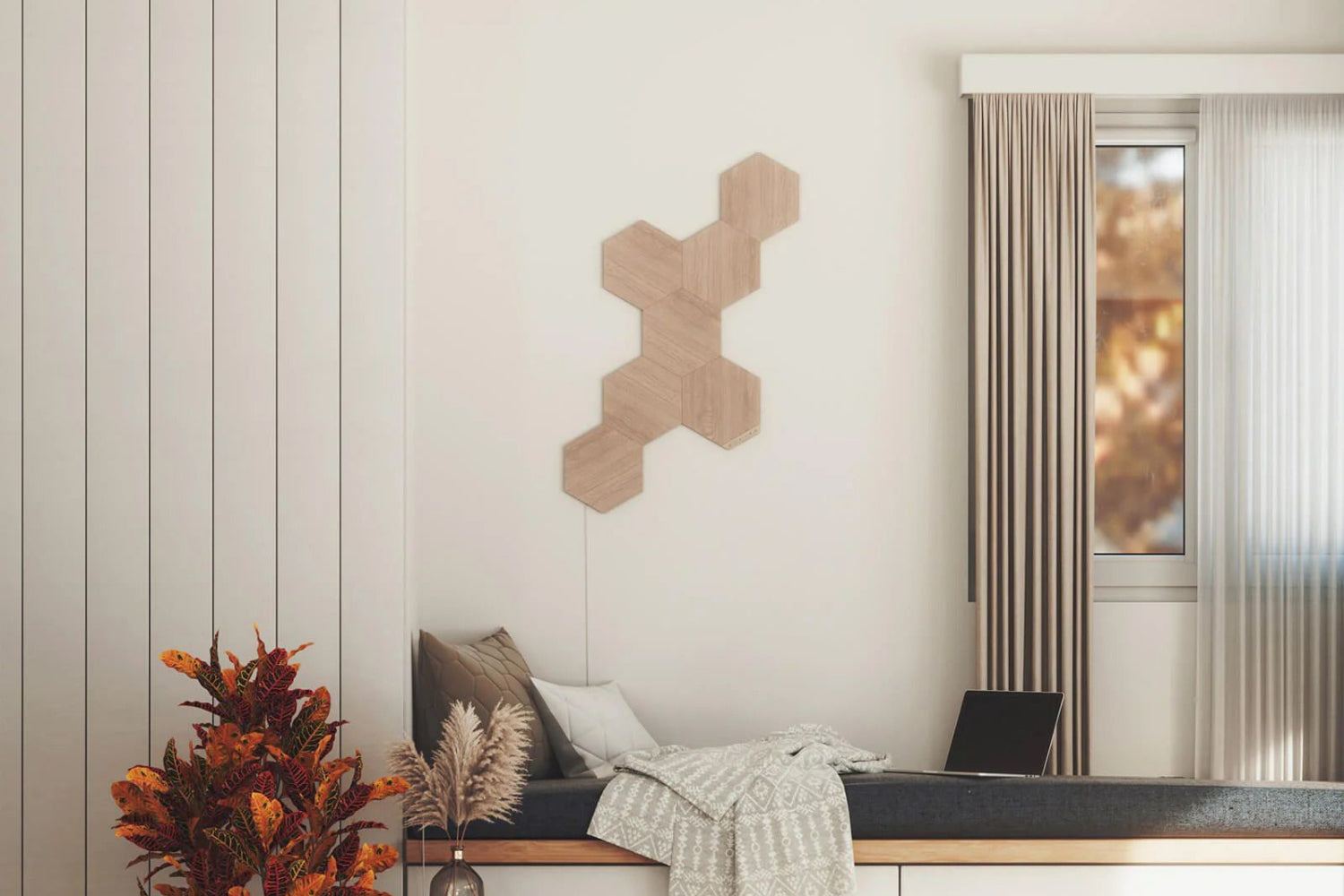 Nature-Inspired Smart Decor
The perfect harmony of art and technology, Nanoleaf Elements are both beautiful wall art and customisable ambient lighting made to look beautiful on or off. Create geometric artwork with the nature-inspired organic Hexagon shapes or turn them on to set the ideal ambience. Control using the touch buttons and find additional smart customisations through the Nanoleaf App.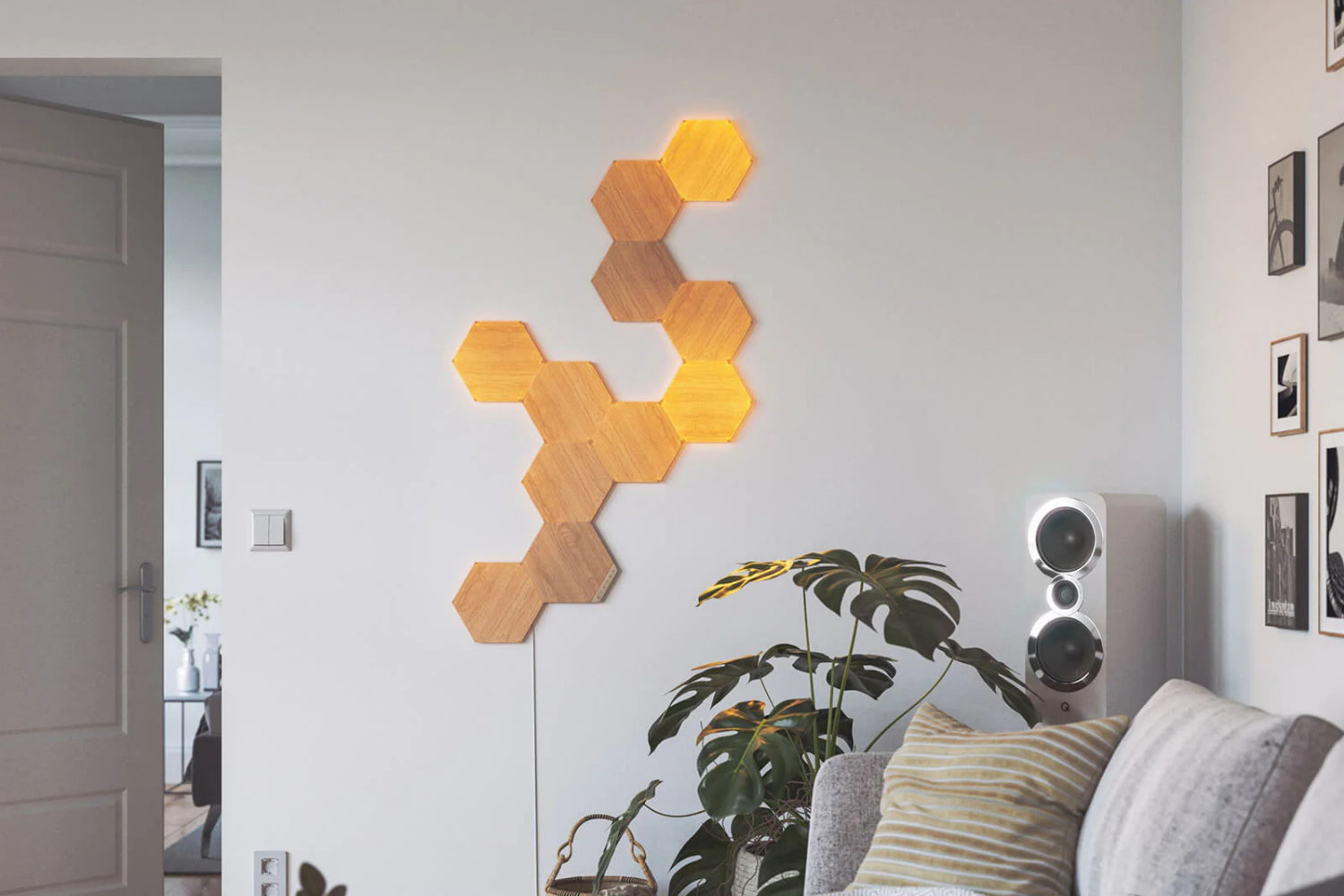 Dynamic Glowing Effects
From recreating the cozy feeling of a glowing Ember to the sense of escape and relaxation of a Calming Waterfall, Nanoleaf Elements comes with 11 curated Scenes. Gently fill your space with a dynamic glowing illumination to set the ideal ambience for unwinding or finding inspiration. You can also customise your own to fit your lifestyle. Or turn on Rhythm Music Sync to pair perfectly with your favourite jazz or coffeehouse playlist.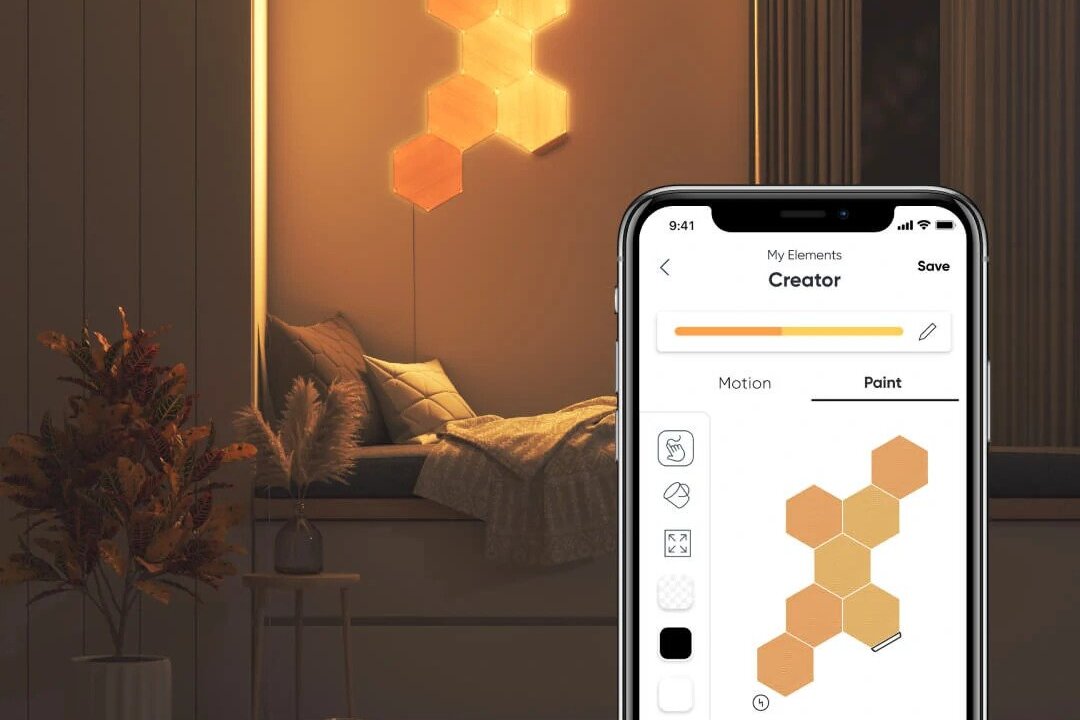 Layout Assistant
Explore different panel layouts with the Layout Assistant, and preview them in your room using the AR feature.
Nanoleaf Elements
Technical Specifications
Starter Kit
7x Wood Look Hexagons
7x Mounting Plates
8x Double-sided adhesive Mounting Tape
8x Linkers for connecting panels and Controller
1x Controller
1x Power Supply Unit
1x Quick Start Guide

Expansion Pack
3x Wood Look Hexagons
3x Mounting Plates
4x Double-sided adhesive Mounting Tape
3x Linkers for connecting panels

2-Year Limited Hardware Warranty
Connect+: No

Touch Control: Yes

Music Sync: Yes

Dynamic Glowing Effect: Yes

Luminous Flux Per Panel: 22 lumens

Lifetime: 25,000 hours

Communication Protocol: WiFi (2.4 GHz b/g/n) (NOTE: 5 GHz networks are not compatible with Nanoleaf products.)

Dimmable: Yes, (via App, Voice, or Touch)

Veneer Material: Laminate with a wood grain finish (PVC)

Mounting Type: Via included double-sided tape or screw mounts (Screw Mount Kit is sold separately)

Key Features: Connect+, Touch, Music Sync, Dynamic Glowing Effect.

Nanoleaf App: Control via the Nanoleaf App (Android & iOS) for mobile/tablet or the Nanoleaf Desktop App (Windows & Mac).

Compatibility: Apple HomeKit, Amazon Alexa, Google Assistant, IFTTT, SmartThings

Colour Temperature: Ambient Whites, 1500-4000K

Colour Channel Configuration: Cool White + Warm White
Voltage: 100VAC – 240VAC (universal)

Max Power Supply Power Wattage: 42W

Max Energy Consumption Per Panel: 2W

Max Panels Per Power Supply: 22 Panels

Max Panels Per Controller: 80 Panels
Height Per Panel: 7.75 in / 20 cm

Width Per Panel: 9 in / 23 cm

Edge Thickness: 0.24 in / 0.6 cm

Mounted Thickness: 0.39 in / 1 cm

Weight Per Panel: 0.46 lb / 208 g

Cable Length: 8.2 ft / 2.5 m
Whats the difference between Elements Hexagons and Shapes Hexagons?

Both Hexagons are the same size, but with different finish and optics. Elements emit cool to warm white light, and do not have RGB capabilities. The corners on Elements panels can each illuminate individually to create an organic sense of motion, whereas for Shapes the entire panel is illuminated at the same time.
Can I connect Elements with Shapes?

Yes, both Elements and Shapes are designed with Connect+ technology, that allows you to connect them together in one layout. We recommend to use Elements linkers to connect Elements to Shapes. Please note, that you cannot connect Elements with Rhythm Light Panels or Canvas.
Are Elements touch-reactive? Do they sync to music?

Yes, Elements react to your touch, so you can control your lights and interact with them in that way. And yes, Elements react to sound and music with the built-in Rhythm function.
Got a question? Let us help.

Reach out to us via our Live Chat or Contact Form if you have any queries.
This product is rated 5.0 of 5.0 stars.
It has received 2 reviews.